#Privacy activism in "the other Washington": #waleg #MyHealthMyData #PeoplesPrivacyAct and more
It might or might not work, but we'll learn a lot, so it's worth a try.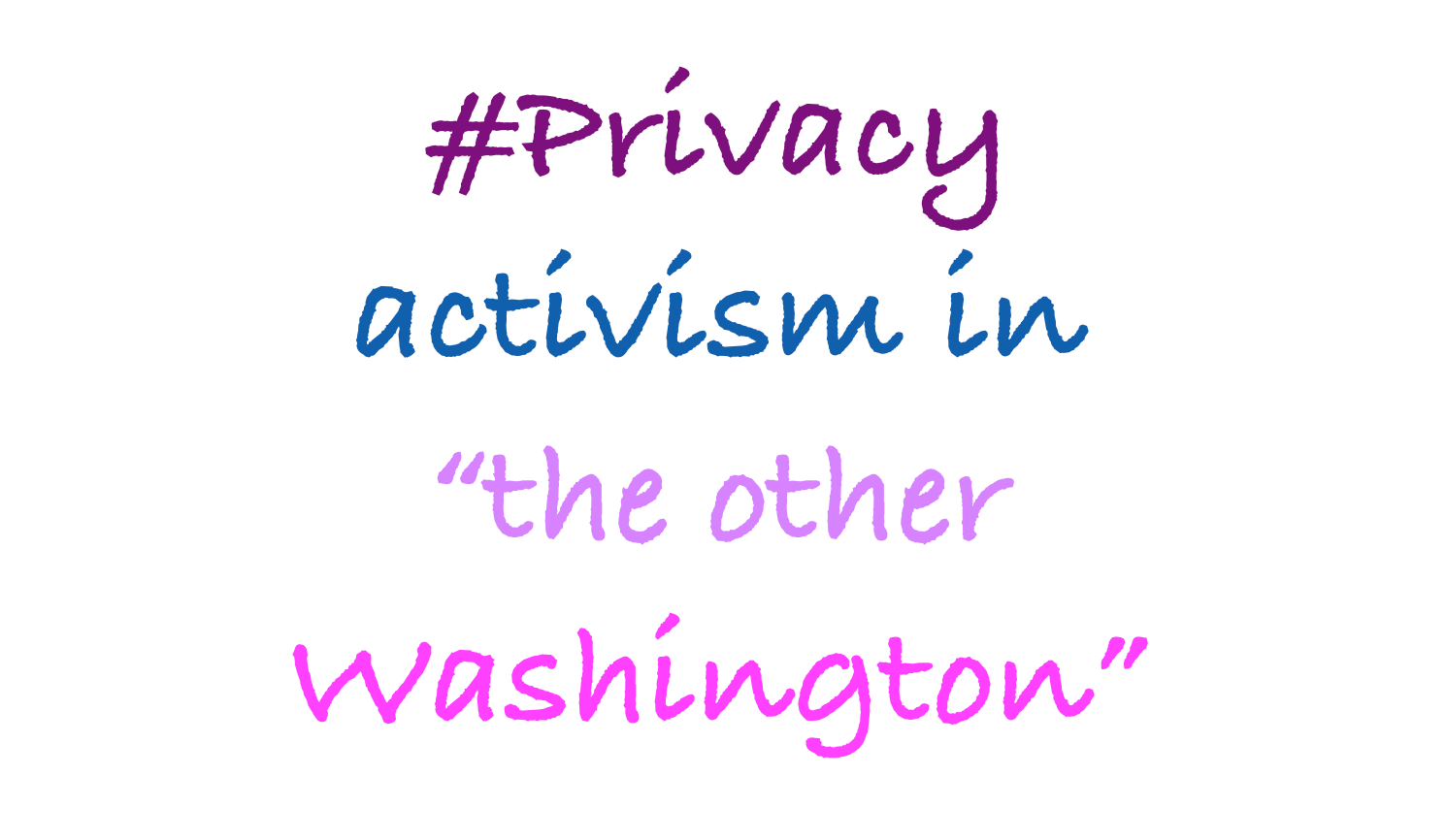 Last updated February 1, with an example link to a "call your legislators" action.
"Washington state privacy and tech justice advocates have continued to build our power over the last two years. The environment in 2023 is much more favorable than it's ever been for strong privacy legislation – nationally, and in Olympia – so there's good reason for optimism."

– A much more favorable environment: Washington state privacy legislation 2023, January 11
"Privacy activism is a good match for Mastodon and the fediverse"

– Privacy activism on Mastodon and in the fediverse
Privacy is a hot topic on on Mastodon and in the fediverse (a broader compatible ecosystem of interconnected social media sites and services) and Privacy activism on Mastodon and in the fediverse looks at reasons why that makes it worth looking at for legislative action.  And conveniently enough here in "the other Washington", our legislative session is in high gear.
There are some important privacy bills in the state legislature this year, including My Health My Data, the Shield Law, the People's Privacy Act, and a bill limiting Department of Corrections cooperation with federal immigration authorities. You don't need to know the details to understand the social media aspects, but if you're interested  A much more favorable environment: Washington state privacy legislation 2023 goes into a lot more detail on the bills, the multi-year context, and the political dynamics.  
Like activists everywhere, we use social networks (including Facebook, Twitter, and more recently Instagram) for a lot of different things, including getting word out about events; amplifying news stories; live-tweeting hearings; engaging with journalists, legislators, and experts; and encouraging people to share their opinions with legislators.  There aren't a lot of legislators in the fediverse yet, but everything else I listed is very doable.  Privacy activism on Mastodon and in the fediverse makes the case that many people on the fediverse are likely to be interested in privacy activism – and some of them live in Wahsington state.
Mastodon and the fediverse are a lot smaller than these other platforms, but there are already enough people here that if we can engage them, there's an opportunity to have an impact.  Or maybe not; there are lots of barriers to activism in the fediverse.  
Still, we'll learn a lot no matter how it works out, so it's worth a try.  
For example ...
Here's an initial experiment I started last week.  Washington legislative hearings offer the opportunity for residents to "sign in PRO" to support legislation (or "CON" to oppose it).  This takes very little time to do, and the instructions are fairly straightforward, so it's a natural for social network activism.  When signons skew overwhelmingly one way or another, legislators notice.1   This post by  @waprivacy@pnw.zone originally asked people to "sign in" to a hearing on the My Body My Data bill and was part of a short thread of signon actions.  And one of the cool features of Mastodon is that you can edit posts, so when it was time for the next action on this bill, I just replaced the link and did some minor tweaking of the language.
There's no way to know how many people saw it, let alone actually took action.   @waprivacy's a brand-new account, and only had a couple followers when I first posted this, but it still managed to get a handful of boosts as well as a few people "favoriting" it.  When I edited the post, everybody who had boosted it got a notification.  With luck, at least some of them will notice and boost the new action as well.
As the session goes on, hopefully more people who care about reproductive freedom and privacy will start following the #MyHealthMyData hastag, people who care about politics in Washington will start following #waleg, other accounts will start posting action items on the hashtags as well.  We shall see.
Hashtags, we got 'em
"Hashtag activism, a term that first appeared in news coverage in 2011, describes the creation and proliferation of online activism stamped with a hashtag. We argue that this online activism leads to material effects in the digital and physical sphere."

– Sarah J. Jackson, Moya Bailey and Brooke Foucault Welles in #HashtagActivism: Networks of Race and Gender Justice  
Hashtags have played a central role in Twitter activism ever since #IranElection in 2009.  Of course, the fediverse's decentralized structure (there are literally thousands of different instances (aka servers) running Mastodon and compatible software) will mean that the dynamics are likely to be different; as Dr. Johnathan Flowers has pointed out, you couldn't do Black Lives Matter on Mastodon today. Still, hashtags are likely to play a key role – especially since they're the only mechnism for searching.
Here's some of the hashtags that are likely to be useful for our activism – on Twitter and Instagram as well as in the fediverse.
#waleg, for Washington state legislative discussions in general
#privacy, of course.  As the #waleg hashtag becomes popular for other bills as well, searching on #waleg #privacy is likely to be the best way to find privacy-related actions.
Hashtags for the various bills: #MyHealthMyData, #ShieldLaw, #PeoplesPrivacyAct and so on
For some people, bill names are easier to remember than numbers; others find the numbers easier, especially if they're working on a lot of bills.  Mastodon's global search only works for hashtags so using tags #HB1155 (for My Health My Data) or #SB5270 (for the bill limiting Department of Corrections cooperation with federal immigration authorities) are also useful.
And let's not for get #FollowFriday!  Activists and organizers often want to be able to find each other so that they can have discussions, work together, and know what others working on the campaign are up to.  Mastodon's #FollowFriday tradition is a one way of accelerating this; I've been priming the pump by doing a #FollowFriday #waleg thread, and the Nexus of Privacy also has a #FollowFriday for #privacy and tech justice thread.
Keep an eye on the hashtags
Most actions are more complex than signing in.  A "contact your legislators" action typically includes information about how to find out who your legislator is and how to contact them via phone, email, or the web – as well as a sample script.  One approach to this is to share a link to actions from organizations like ACLU or sites Take Action Network (a Washington-state focused action platform that's popular with progressive activists here).  Another possibility is to thread several posts together with instructions and a script, or use a Mastodon instance that allows longer posts and better formatting.
A couple of bills have executive sessions scheduled this week where the committee hearing the bill votes on potential amendments and whether to advance it. Of course just because it's on the schedule doesn't necessarily mean it'll happen; My Health My Data's executive session, for example, has already been postponed twice.  Privacy advocates want the committee to advance a strong version of the bill this week; industry lobbyists want to keep it in this initial "policy committee" as long as possible and trying to water it down by narrowing the defintion of health data, making it harder for people to sue them, introducing a get-out-of-jail free card (the so-called "right to cure"), and so on.  
So it's a classic time for a contact-your-legislators action. After that, there will be lots more more hearings, more executive sessions, and more actions over the course of the session.
So keep an eye on the hashtags like #MyHealthMyData, #waleg,  and #privacy as things move forward – and if you know people in Washington state, encourage them to get involved!
Notes
1 In 2022, for example, strong signins at the Silenced No More Act's early hearings helped build momentum and a strong version of the bill sailed through the legislature.  Signins can also help kill bad legislation; after over 100 people signed in CON and only one PRO, the Bad Washington Privacy Act's last-gasp Ways & Means hearing was ignominiously canceled.